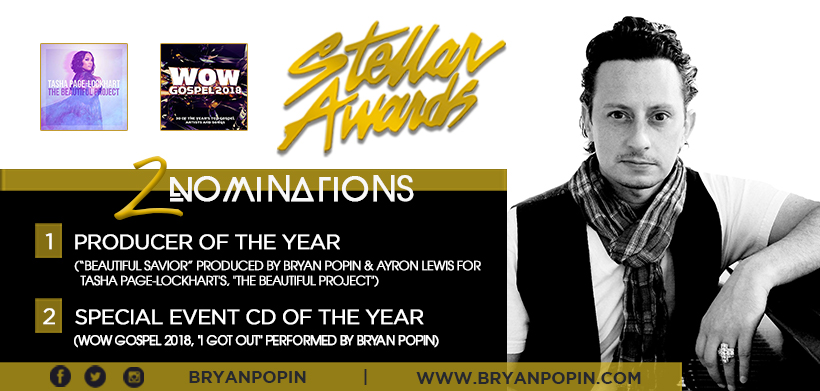 For Immediate Release:
NASHVILLE, TN (Wednesday, January 16, 2019) – – Chicago-based Central City Productions announced the nominees in 28 categories for the 34th Annual Stellar Gospel Music Awards yesterday. Billboard #1 independent recording artist, 2018 ASCAP Rhythm & Soul Music Award Songwriting Recipient and producer Bryan Popin received his 2nd career and back-to-back Stellar Award nomination.
A husband and father of 6 children, Popin celebrates a nod in the category of Producer of the Year for his contributions on the song "Beautiful Savior" featured on Tasha Page Lockhart's 2017 release, The Beautiful Project (RCA Inspiration/Fo Yo Soul Recordings). Page-Lockhart, Kirk Franklin, Ronald Hill, Phil Thornton, Clifton Lockhart, Myron Butler, Dontaniel Kimbrough, Zeek Listenbee, Cordell Walton, Edward "6Mile JP" Page, Charles "Ollie" Harris, Daniel Bryantand AyRon Lewis are also nominees in the category.
Additionally, the 30-track WOW GOSPEL 2018 (various artists) compilation album, which features Popin's smash hit "I Got Out," received a nomination for Special Event CD of the Year. The 34th Annual Stellar Awards will be held on Friday, March 29th, 2019 at the Orleans Arena in Las Vegas, NV.
About Bryan Popin: 
A native of NJ, Bryan Popin, husband, and father of 6 children was a piano protégé by his early teens. Later in his career, the legendary Stevie Wonder nicknamed him the "Little Boy Wonder" and he's continued to impress with his songwriting, production, keyboard skills, and vocal exhortations. He's written with R&B legend Chaka Khan and at the height of their popularity, Justin Timberlake's *NSYNC recorded one of Popin's songs for their multi-platinum album and stadium tour, Celebrity. His independent sophomore project release, I Got Out reached #1 on Billboard Top Gospel Album chart in 2017 and earned him a 2018 Stellar Award nomination for Traditional Album of the Year. The album produced three Billboard Top 25 radio singles including "Step In The Name" (#21), "Such A Time As This" (#17), and the title-track smash hit "I Got Out" (#4), which earned him a 2018 ASCAP Rhythm & Soul Music Award.